Family and Friends Forum
We hope this forum will be a valuable source of information, we want it to reduce people's sense of isolation and to give them a sense of hope for the future.
Continue
The risks of viewing sexual images of children are very significant, not only for the person who is looking at them, but for the children in the images and possibly for children that he is in contact with in the 'real world'
Risks associated with online sexual offences against children can be viewed in three broad ways:
Risk of committing similar online sexual offences, including downloading and possessing indecent images of children
Risk of committing other online offences against a child, including grooming, or engaging in online sexual activity with a child
Risk of committing contact sexual offences against a child
It's sometimes assumed that everyone who accesses sexual images of children will go on to commit more serious online sexual offences or will commit a contact offence against a child. The diagram below illustrates, however, that offenders use the Internet out of different motivations.
Venn Diagram To Sexual Offending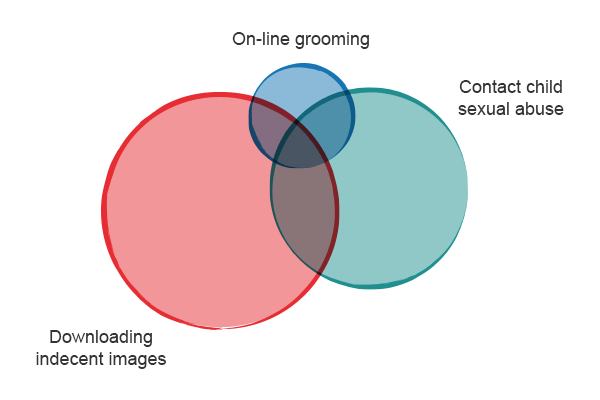 Craissati, J. (2008). Child molesters in the making, or a new type of offender?
The diagram shows that:
The majority want to access sexual images of children and do not want – or don't dare – to get into other areas;
some have already formed the desire to have sexual contact with a child, or have groomed or sexually abused children in the 'real world', and want to meet other abusers or potential victims online;
some are primarily interested in making contact with children/young people with the intention of engaging in online sexual conversation or activities (via webcam or sexting). As indicated by the intersecting circles, some from each group will gravitate towards one or both of the other behaviours (over time) and a few will go online with the intention of engaging in all three.
You may think that the person you are concerned about would never harm a child  in his everyday (offline) life; but then it is almost certain that you had no idea that they would ever look at sexual images of children either.  It is possible to help to prevent a person from reoffending by:
Recognising future risk
Recognising risk situations and moods
Identifying and employing strategies to deal with these
Investing in a positive future life